Will Book A (December 1770 to July 1830)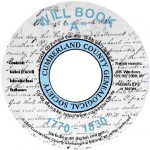 CCGS CD Publication Number CD 2    Price   $34.95 + S & H
ISBN 0-9733643-2-7
352 Documents, 5025 Index Entries
This CD contains images of every document in Cumberland County, Nova Scotia's Will Book A. The dates range from December 15, 1770 when William Olney wrote his will up to July 31, 1830 on the property plan of John Bent.
Included are wills, estate appraisements, guardianship papers, auctions, debits and credits from ledgers, or other accounting of the estate. The related index is in two parts. One lists only the principals, and each entry in this index is linked to an image of the document that was created by or for the principal of that estate. The other list includes every name found in these documents and is linked back to the principal of the document in which the name appears.
A list of all persons named in the documents included in Will Book "A" is available in Microsoft Excel format.  See Will Book "A" Index.
Compiled by Cumberland County Genealogical Society