Posted by Admin on March 24, 2019
Comments Off

on Add your family leaves to Cumberland County's heritage tree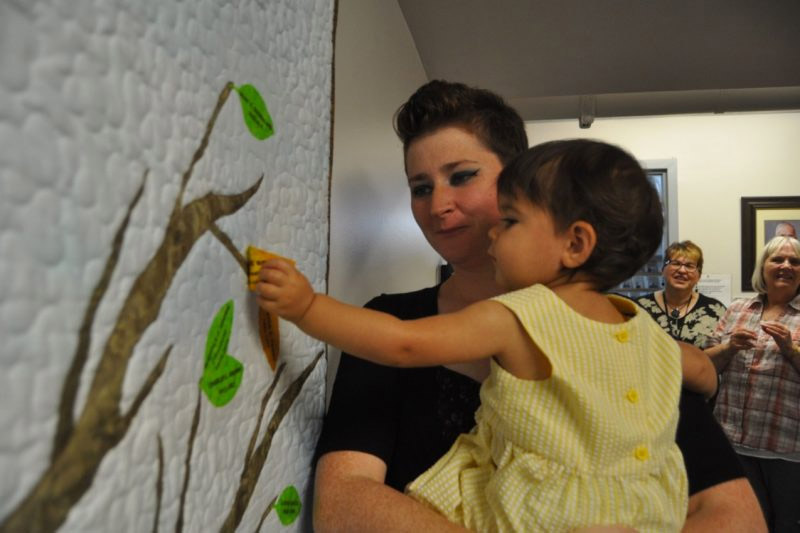 One-year-old Clara Brown adds a leaf in memory of her great-great-great-grandmother, Clara Brown, to the heritage tree at the Cumberland County Genealogy Centre in Amherst, with help from her mother, Kala Gaudet.
©Andrew Wagstaff – The Citizen-Record
AMHERST, N.S. – The Cumberland County Genealogical Society had the perfect person to place a leaf on its new heritage tree. They had Clara Brown do it, in memory of Clara Brown.
The one-year-old placed the leaf in memory of her great-great-great-grandmother, with her parents looking on, as members of the society spoke about their latest fundraiser in celebration of Canada 150.
"If anything, it is to recognize our ancestors, because Cumberland County has a rich, rich history," said Marney Gilroy, treasurer of the society. "To come in and see your ancestor on that quilt, especially a namesake like Clara, to see the generations, it's special."
The heritage tree is a large quilted wall hanging, the idea of which came from society member Betty Compeer, who provided a nominal donation to get it started. The quilt was made by Glenda's Quilts of Fredericton, and depicts a tree on which leaves can be added.
Each leaf bears the name of someone's ancestor, and can be purchased at different price levels, with the funds going to support the genealogical society. Gold leaves are worth $100, silver are worth $50, and green are worth $25.
Indira Sinton of Uxbridge, Ont. purchased the leaf for Clara Brown, which was placed by her niece, Clara Brown, this week.
"Our family has been buying some leaves to support some of the work the genealogical society has been doing, and specifically this centre here," said Art Brown, Clara's father, at the society's Amherst office. "It's been a great resource for us in getting a lot more information about our own family tree, and also to memorialize our ancestors that are from this county."
The quilt will be an ongoing project, always with room for expansion as it gets filled with more and more leaves.
"It will stay here on display, and we also plan on taking it with us if we go to other venues around the area," said board director Barb Reid. "Whether it's the blueberry festival, the Cumberland County Exhibition, or something in Parrsboro … sometimes we take our meetings on the road in the summer, so it can go to those venues too."
Those wishing to have their ancestor included on the heritage tree can contact the Cumberland County Genealogical Society at 902-661-7278 or by email at archives@ccgns.
Link to above article published August 18, 2017:
http://www.cumberlandnewsnow.com/news/local/2017/8/18/adding-leaves-to-cumberland-countys-heritage-tree.html
Newest publication release from CCGS member Bliss Brown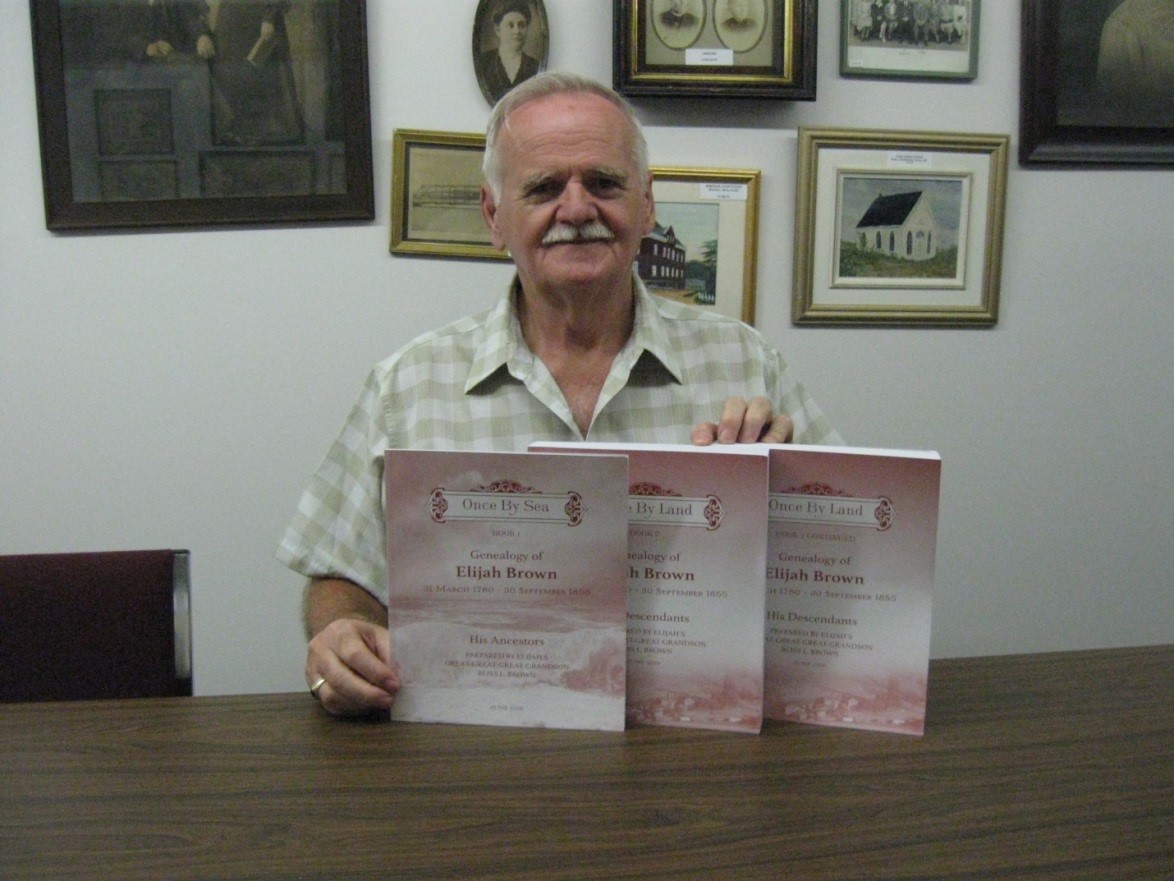 "Once By Sea – Once By Land"
A private publication by author Bliss Brown, a direct descendant of Elijah Brown (1780-1855)
Price: $65.00 + (shipping and handling is extra)
1100 pages 8 ½" X 11″, (3 Volume Set)
"Once By Sea, Once By Land" is a three volume 1100 page collection of genealogy and history based upon the ancestry and descendants of Elijah Brown (31 March 1780 – 30 September 1855). The story begins in England 1635, to Boston, then New Hampshire and Maine before his marriage 1802 in Parrsboro, Nova Scotia. The families of Elijah and Henrietta (Cannon) Brown spread across Colchester and Cumberland counties of Nova Scotia, Westmorland County of New Brunswick and Elgin County, Ontario. The wide span of family names include Siddall, Piers, Carter, Welton, Hughes, Fife, Brundage, Jeffers, Skidmore, Kennedy, Tabor, Edwards, Pettigrew, Thompson, Allen, Canning, Harrison, Hoeg, Bird, Atkinson, Cochrane, Bowden, Dowe, Quinn and of course, Brown; and so many more. Pages also include over 300 photographs and numerous obituaries. Authored by Bliss Brown, after more than 40 years of research.
Posted by Admin on January 5, 2018
Comments Off

on Five Score and More – Reflections of A Centenarian
Newest publication release from members of CCGS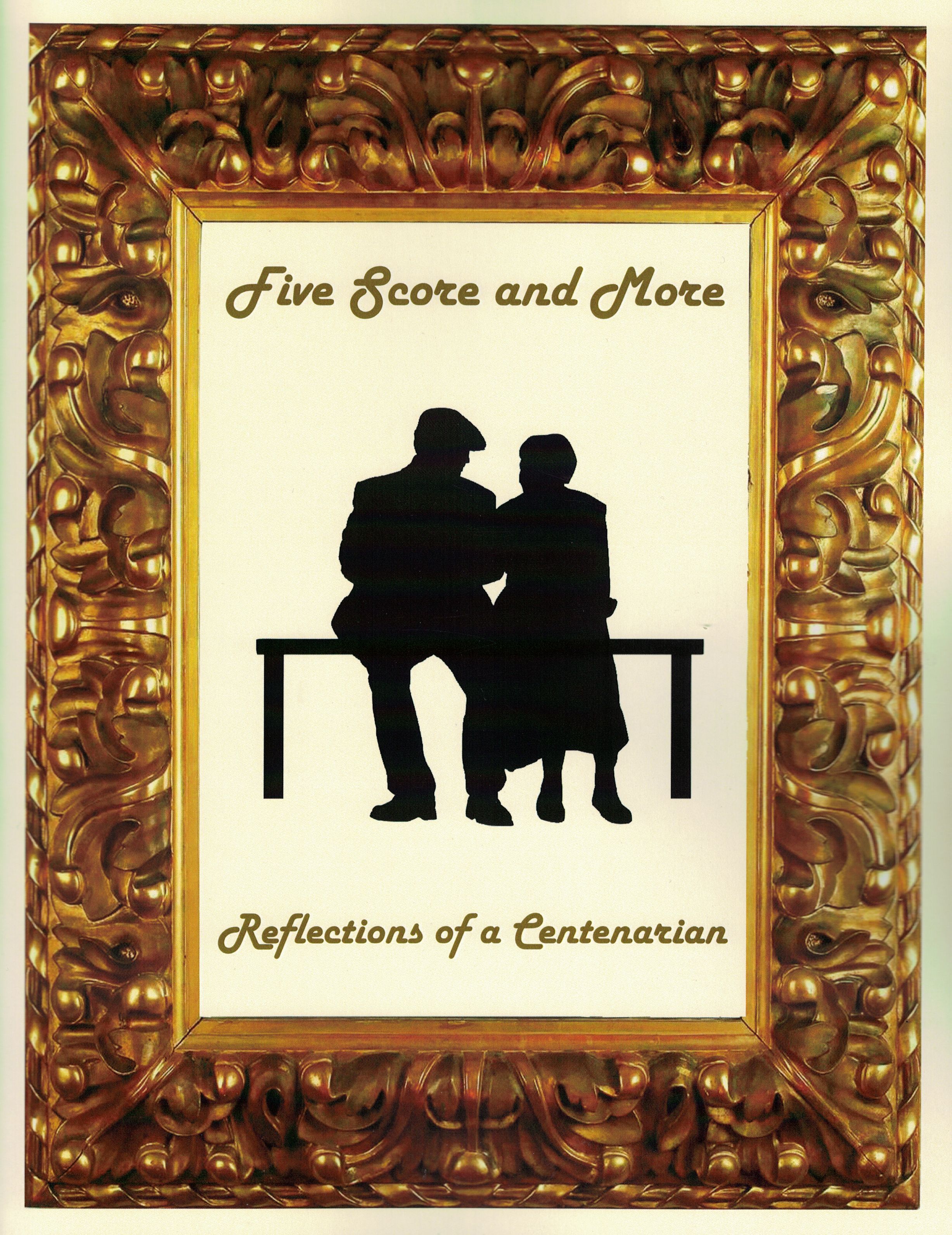 The long awaited release of "Five Score and More – Reflections of a Centenarian" is here. This book captures life in Cumberland County as told by or about these wonderful people who lived here for 100 years and more. Read their stories of life before electric lights, of simpler times, war times, the Depression and much more. Printed in 8 ½ x 11 size and colour it sells for members price of $49.95 and non-members price of $54.95 ( shipping and handling is extra) If you would like to order a copy please send an email to "archives@ccgsns.com"
Please Note:
Due to costs incurred for publications the CCGS Board of Directors has voted to limit purchases of membership priced publication at one (1) copy per single membership or two (2) copies per family membership at listed pricing.
All non-membership pricing remains for unlimited number of copies at listed price.



WE RISE AGAIN
"We Rise Again – a genealogy of the descendants of Richard and Dorothy (Patton) Thompson, Pioneer Settlers of Oxford, Nova Scotia"
This series represents the life-long research of Cyril Oickle who started this project at the age of 10 years. In 2015, Cyril was very close to publishing his work when he passed away from a sudden illness. His work has been donated to CCGS by Cyril's family with the request that we fulfill Cyril's dream of having his work published.
We Rise Again … is a five volume set containing 10 Chapters dedicated to Richard Thompson & Dorothy Patton and their 9 children.
Volume 1 – contains chapter 1 – Richard Thompson & Dorothy Patton & chapter 2 – Ralph Thompson (1st child) & Mary Sweeney
Volume 2 – contains chapter 3 – Ann Thompson (2nd child) & Joshua Brundage, chapter 4 – Mark Thompson (3rd child) & Mary Read & chapter 5 – Eleanor Thompson (4th child) & Charles Chappell
Volume 3 – contains chapter 6 – Dorothy Thompson (5th child) & James Chappell & chapter 7 – Richard Thompson (6th child) & Elizabeth Read
Volume 4 – contains chapter 8 – Letitia Thompson (7th child) & George Allen, chapter 9 – Abigail Thompson (8th child) & John Fillmore & chapter 10 – Mary Thompson (9th child) & John Oxley
Volume 5 – contains the Index to all chapters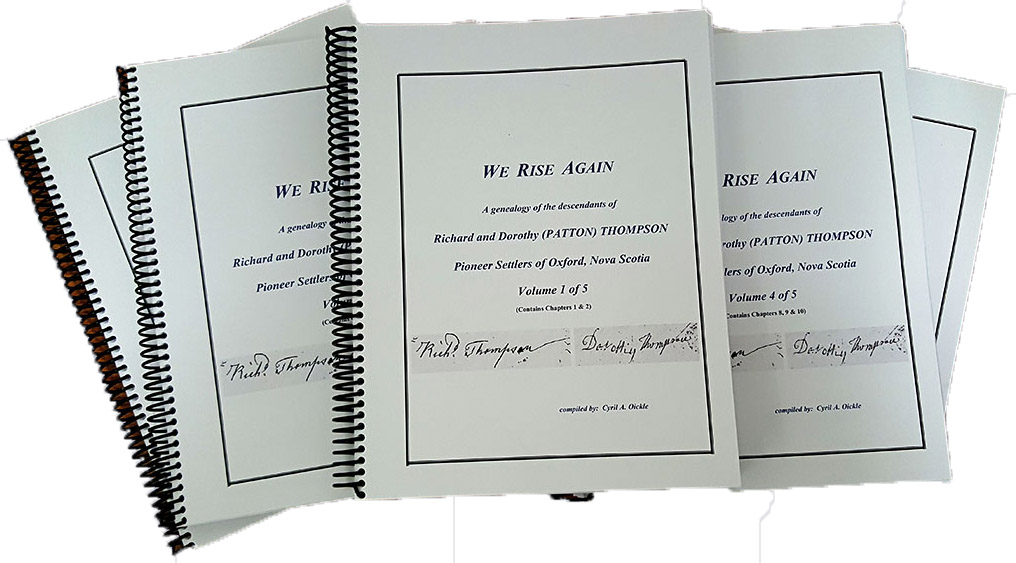 Click to visit our publications page to order a volume of your choice or full set today!
This book is a compilation of newspaper articles containing vital statistics for Cumberland County, Nova Scotia as recorded by the "Amherst Daily News," Amherst, Nova Scotia, from January 1, 1907 to December 31, 1907.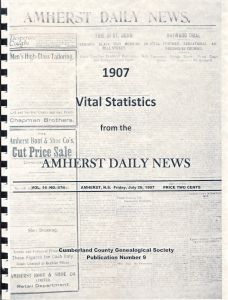 All vital statistics were transcribed in full as recorded in these issues. Entries were copied from microfilms housed at Mount Allison University, Ralph Pickard Bell Library, Sackville, New Brunswick. All individuals named within these articles, with the exception of ministers, have been cross-referenced for an easy search for your ancestors. At the end of each article in italics you will find the source of the article. For example: ADN Tues., Apr. 10, 1907 p.1 consists of the abbreviated name of newspaper, the publication date of the newspaper and the page number.
Get your copy now at 1907 Vital Stats Book or go to Products drop down box above and/or select other publications.
Posted by CCGS on March 7, 2012
Comments Off

on "Routes to your Roots" feature on Live at 5
"Routes to your Roots" will be featured on CTV's Live at 5 program tomorrow, Thursday, March 8 between 5 and 6 (Atlantic time).  This will cover the Council of Nova Scotia Archives welcome videos project.  A video crew visited heritage sites, including our Genealogy Centre, and interviewed staff or volunteers about their site and the information available there.
Marney Gilroy, volunteer and board member spoke on our behalf.  You can see the video here, or on our Facebook site.  Feel free to leave a comment and click the "Like" button if you have not already done so.
You will also be able to find the item on the CTV News website after it is aired.
More information about the project is available at www.novascotiaroots.com.
The Cumberland County Genealogical Society, formed as a non-profit organization in 2000, is supported by the efforts of our volunteer membership.  One of the goals of the Society is to award scholarships to deserving Cumberland County high school students who will be attending a Maritime university.  This scholarship is made possible from a generous donation from the former Fort Lawrence/Beaubassin Heritage Association.
In connection with these goals, the Board has approved a $500 scholarship to be awarded to Cumberland County graduating high school students who will be full-time students in an accredited Maritime university and with an interest or intent of pursuing a Maritime or Acadian history course of study.
For more information and an application, click here to visit our Scholarship page.
Completed applications must be postmarked no later than May 31, 2012, to enable the Scholarship Committee to complete the selection process by early June.  Applications postmarked after this deadline will not be considered.
We'd like to say a special "thank you" to the Council of Nova Scotia Archives for producing this excellent video about our Genealogy Centre, as part of their Routes To Your Roots program.  More information about the program is available at www.novascotiaroots.com.
The video cannot be shown at the moment. Please try again later.
We would like to welcome you to our new website, and our new web address, www.ccgsns.com.
Today we have deployed our new 'beta' site design.  In addition to bringing the style of our site up to date, we've tried to organize the large amount of resources we have available so that the site is easier for you to use, and find what you need.
We've also added some new features, such as a site-wide search function, a discussion forum, and an image gallery. Our publications and products are now available to be purchased using a single-click Paypal button.  Occasionally we'll be posting information of interest to our members and visitors on the front page, so we hope you will always have something new to see when you visit us next.
The site is mostly complete but there are still odds and ends to add, and we will continue with that work up to and beyond our official launch date, which will correspond to the members' meeting on February 21, 2012.
Although our previous web site address – www.ccgs.ednet.ns.ca – will continue to work, we encourage visitors to bookmark and use the new address going forward, to ensure you are seeing the most recent information.
If you have any questions or comments, please let us know by writing to us – archives@ccgsns.com.