Book Launch June 2, 2022, 7pm at the Campbell Carriage Factory Museum, 19 Church Street, Sackville, NB

The Tantramar Heritage Trust, along with Tidewater Books, is pleased to host the launch of Against The Tides: Reshaping Landscape and Community in Canada's Maritime Marshlands. Published by UBC Press and written by environmental historian Ronald Rudin, the book explores the activities and legacy of the Maritime Marshland Rehabilitation Administration. Created by the federal government in 1948 and headquartered in Amherst NS, the MMRA assembled engineers to take over from farmers responsibility for the dykes and aboiteaux (tidal sluices) that had made farming possible on lands in both New Brunswick and Nova Scotia that had once been salt marsh. In its early years, the MMRA repaired or replaced the dykes and aboiteaux. However, by the time the program wrapped up in 1970 it had also constructed five tidal dams blocking tidal waters from some major rivers that flowed into the Bay of Fundy.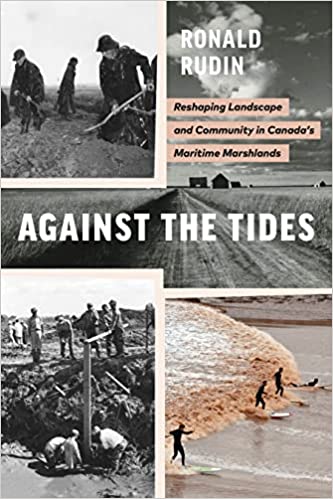 Locally, important agricultural dykelands were protected in the Shepody, Petitcodiac, Memramcook, Westcock, Tantramar, Aulac, Missaquash, LaPlanche, Maccan, and River Hebert marshes. Also tidal dams were installed on the Shepody River (1956), the Tantramar River (1960), and the Petitcodiac River (1968). Opposition emerged to construction of the Tantramar and Petitcodiac dams. The Petitcodiac tidal dam and causeway has since been removed and replaced by a bridge.

The book has been thoroughly researched, wonderfully written; sources carefully documented, and is well illustrated with photos and maps. Copies of the book will be available for sale at the launch and can be purchased from Ellen Pickle, owner of Tidewater Books, who will be in attendance at the book launch.

Ronald Rudin is Distinguished Professor Emeritus of History at Concordia University. He is the author of several books dealing with the environmental and cultural history of Atlantic Canada, most recently his 2016 book, Kouchibouguac: Removal, Resistance and Remembrance at a Canadian National Park.
Please join us for the launch; June 2nd, 7pm in the Multi-purpose Room at the Campbell Carriage Factory Museum, 11 Church Street, Sackville, NB. The author will give a short presentation on the book focusing on the Moncton-Sackville-Amherst region and will be available for questions. A small reception will follow.

Should you have any questions, please contact the Office of the Tantramar Heritage Trust, 29B Queens Road, Sackville, phone 506-536-2541.