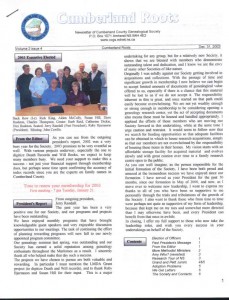 Cumberland Roots Volume 2, Issue 4 – December 31, 2002
ISSN #1496-6972  Price $2.00
[From the Editors:]
As you can see from the outgoing president's report, 2002 was a very busy year for the Society. 2003 promises to be very eventful as well. With various projects underway, especially the one to digitize Death Records and Will Books, we expect to keep many members busy. We need your support to make this a success – not just your financial support through membership dues, but perhaps some time spent confirming the accuracy of the index records since you are the experts on family names in Cumberland County.
Time to renew your membership for 2003
First meeting – 7 pm Tuesday, January 21.
Contents:
Election of Officers
Past Presidents message
From the Editor
More Methodists Ministers
Amy Who? (revisited)
Research Tour of NS
Grand and Petit Jurors
Adoption Problems
We Get Letters
The Society and Contacts
{Source: Page 1, Cumberland Roots, Volume 2, Issue 4, December 31, 2002}