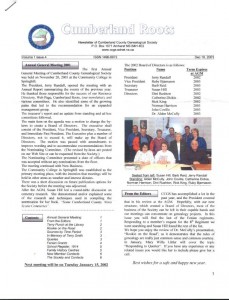 Cumberland Roots Volume 1, Issue 4 – December 18, 2001
ISSN #1496-6972  Price $2.00
[From the Editors:]
CCGS has accomplished a lot in the past year, and the President covered that in his review at the AGM. Hopefully, with our new structure, which created a Board of Directors, most of the business of the Society can be left in their capable hands and our meetings can concentrate on genealogy projects. In this issue you will find the last of the Fenian regiments. Responding to a member's request for the 8th Regiment we went searching and Susan Hill found the rest of the list.
We hope you enjoy the review of Dr. McCully's presentation, Rookie on the Road as it demonstrates that the rules of genealogy are really just common sense and common courtesy. In January, Mary Willa Littler will cover the topic "Responding to Queries". If you have any experience or any related issues you would like her to include please give her a call.
Best wishes for a safe and happy new year.
Contents:
Annual General Meeting
From the Editors
Terry Punch at the Library
Rookie on the Road
Sources by Time Period
In Memory of Terry Smith
Queries
Fenian Grants
School Register, 1914
Family History Centres
New Member Contacts
The Society and Contacts
{Source: Page 1, Cumberland Roots, Volume 1, Issue 4, December 18, 2001}