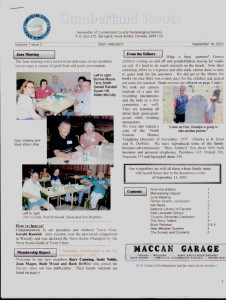 Cumberland Roots Volume 1, Issue 3 – September 18, 2001
ISSN #1496-6972  Price $2.00
[From the Editors:]
What a busy summer ! Grown children visiting on and off and grandchildren stayng for weeks on end. It's hard to do much research on the beach. Now their schooling offers us a reprieve and after daily chores there is time to again look for the ancestors. We did get to the library for books (in case there was a rainy day) for the children and picked out some for research. Book reviews are offered on page 5 and 6. We took our camera (instead of a pen for recording inscriptions) and the kids to a few cemeteries as well. They are learning all about their great-great-greats while swatting mosquitoes.
We were also loaned a copy of the "North Eastern District Telephone Directory of November. 1937. (Thanks to R. Ernst and R. DeWitt). We have reproduced some of the family business advertisements. "Busy Amherst" lists about 1000, both business and personal telephoncs. Parrsboro 145. Oxford 200. Pugwash 175 and Springhill about 350.
Our sympathies are with all those whose family notes will record losses due to the disastrous events of September 11, 2001.
Contents:
From the Editors
Membership Report
June Meeting
Fenian Raids, conclusion
Net News
National Library of Canada
East Leicester School
Cousins Generate Confusion
The Story Tellers
Book Reviews
New Member Queries
The Society and Contacts
{Source: Page 1, Cumberland Roots, Volume 1, Issue 3, September 18, 2001}