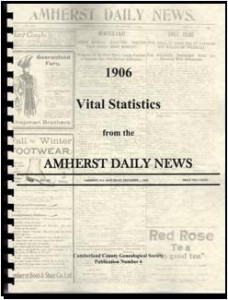 1906 Vital Statistics from the Amherst Daily News
CCGS Publication Number 6    Price   $15.00 ea+ S & H
ISBN 978-0-9733643-8-5
114 pages
(8 ½" X 11″, spiral-bound)
This book is a compilation of newspaper articles containing vital statistics for Cumberland County, Nova Scotia as recorded by the "Amherst Daily News," Amherst, Nova Scotia, from January 1, 1906 to December 31, 1906.
All vital statistics were transcribed in full as recorded in these issues. Entries were copied from microfilms housed at Mount Allison University, Ralph Pickard Bell Library, Sackville, New Brunswick. All individuals named within these articles, with the exception of ministers, have been cross-referenced for an easy search for your ancestors. At the end of each article in italics you will find the source of the article. For example: ADN Tues., Apr. 10, 1906 p.1 consists of the abbreviated name of newspaper, the publication date of the newspaper and the page number.
Compiled by CCGS volunteers.
Cover design by Rick King. Typed and proofread by members of CCGS.