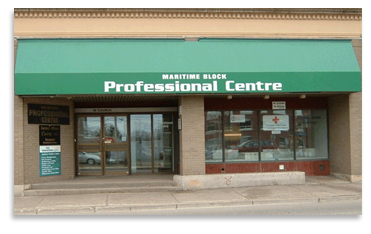 Our Cumberland County Genealogy Centre officially opened on May 19, 2005, with the presentation of The Ernest Coates Research Room, located at 16 Church Street (lower level), Amherst, Nova Scotia, B4H 3A6.
Phone: (902) 661-7278
Email: archives@ccgsns.com
Summer Hours: May 19 – Oct. 14; Thurs., Fri., Sat. 10 am to 4 pm
Winter Hours: Oct. 15 – May 14; Fri., 1 pm to 4 pm; Sat. 1 pm to 4 pm
Wheelchair Accessible.
Take a Virtual Tour of the Genealogy Centre.
Members of CCGS volunteer their services to provide friendly, knowledgeable assistance to those researching Cumberland County families and local history.
We are conveniently located in the downtown core of historic Amherst, within walking distance of three churches and several restaurants.
Directions: From Exit 3 on the Trans Canada Highway, drive 1.6 km east into the town of Amherst; cross the railway tracks; turn right at first set of lights.  Immediately to the left is 16 Church Street, with parking in the rear or across the street.  (Find us on Google maps.)
The Genealogy Centre holdings include:
Cemetery records, plot maps, searchable cemetery database
Census records
Church records
Community histories
Diaries
Directories
Ernest Coates Fonds
Family Bibles
Genealogy files
Maps
Municipality of Cumberland Fonds
Newspapers 1896-2004
Obituaries
Passenger lists
Photos
Poll tax books
School registers
School yearbooks
Scrapbooks
Terry Smith collection
Township records
Vital statistics
Voters' lists
Wills
Fee change apply November 1st. 2022
Research fees:  $5.00 per half day (10 am – 1 pm) or (1 pm – 4 pm)
—————–:  $10.00 per full day (10 am – 4 pm)
Non-scheduled office day research fee: $30.00
Photocopies:— .25¢/pg.
Digital images: .25¢/image, your device, phone, ipad, camera.
CCGS also offers research assistance to those who request help via email, phone or letter, with retrieval fees of $5.00 plus costs, or research fees of $30.00 per hour.